Second Quarter 2011 Hirings, Firings, Layoffs, Resignations By The Numbers
Here is the current Second Quarter 2011 data for employment. To look at the first quarter data click here.
Notable events in the second quarter were that economists, investors, and the media started to realize that the trillions of dollars of "stimulus" money did not stop a double dip recession.
The turning point occurred on June 1st when the ADP employment number and the manufacturing data came out.
The weekly initial unemployment filings was above 400,000 for the 15th straight week. This is a sign that job growth is not happening, in fact you can see in the chart below we are actually growing weekly initial unemployment claims signaling a double dip.
For those you you counting if this rate is left unchecked we would have another roughly 20 million people sitting at home unemployed by the end of the year.
In fact after the weekly numbers are released they get revised, in July the numbers were being revised upwards to reflect deeper new layoffs.  After 15 straight weeks of over 400,000 new initial unemployment claims the last week in July saw an initial unemployment claim of 398,000.  As unemployment claims tend to get adjusted after the fact with better information, it is reasonable to expect that this number will in fact be revised above 400,000.  If that indeed is the case it will mark 16 straight weeks of over 400,000 job losses.  Another way to look at this is that over 6 million new people are figuring out how to file unemployment.
Fast forward to August 4th and we can see that the prediction that any one living in the real world could have made that the unemployment claim number would be revised higher was in fact correct.  Data was also released that showed the new weekly unemployment claim data sits at exactly 400,000 freshly laid off workers.  This marks 17 consecutive weeks of unemployment numbers that signal terrible job outlook for the country.
Just as these weekly unemployment numbers are coming forecasting an economic slow down, we have large companies like Merck and Boston Scientific both announcing that over the next 2 to 5 years the companies will both lay off a combined 14,200 workers.
Not only did new unemployment filing stay above the important 400,000 threshold the official U-3 unemployment rate increased to 9.2%.
Mass Layoff Reports
| | | |
| --- | --- | --- |
| 2011 | Mass Layoff Events | Total Workers Affected |
| April | 1,564 | 143,927 |
| May | 1,599 | 143,540 |
| June | 1,532 | 143,444 |
| Totals | 4,695 | 430,911 |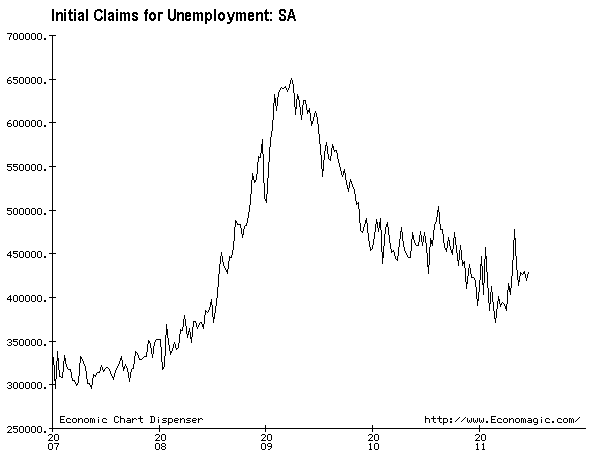 Source: BLS
Hiring
Walgreens in the Chicago, IL area is looking to hire 600 people for its expanding internet sales.
U of M Health System – Looking to hire 500 people by the end of November this year in various departments.
Severstal – The former Rouge Steel facility in Dearborn is getting a $750 million loan from the Federal Government.  The loan will create 260 permanent jobs, and 2,500 short term construction jobs for the retooling effort.
Notable Layoffs
Disney -Will lay off about 5% mostly in the distribution area with other areas impacted also getting downsized.
Lionsgate Studios – Said to have laid off less than 20 people.

Harpo Studios aka Oprah's company will be laying off employees triggering a mass layoff event in Illinois.
CastleRock Security Inc. – Will lay off 102 employees during the second half of July.
LifeSource – blood and organ bank, which will eliminate 63 jobs during the first two weeks of July in a restructuring.  The move will reportedly save the company $1 million per year.
First Student Inc. – School bus transportation company, will lay off 80 people beginning June 30 because of a lost contract.
MoDOT – Passed a plan to cut 1,200 workers and eliminate facilities, could save about $212 million.
Fox Home Entertainment – 22 people got downsized
Borders Group – Asking bankruptcy court to liquidate 51 more stores to meet loan obligations.  The move will result in a "significant loss of jobs".
Warner Bros. – Laid off 50 people from its workforce.
Perkins & Marie Callender's Inc – As a result of filing for Chapter 11 bankruptcy protection the chain will close 58 establishments and 2,500 people will be without jobs.
Lockheed Martin – will lay off 1,200 people or 8% of the company from its space systems equipment division.
Boeing – Will lay off 225 people from Wichita, Kansas.
Grady Memorial Hospital – In Georgia is laying off 120 people.
Kmart – Eliminating appliance experts and training all associates to sell appliances will result in 700 jobs lost.
Eastern Michigan University – announced layoffs of 40 employees, and eliminated 70 positions it also increased tuition rates 3.65%.
Myspace – The website company is going to layoff another 150 people, and place another 150 people on a transition team so they can look for new jobs.
Mohawk Industries – Citing a week housing market the company is closing its plant in Laurel Hill and eliminating 197 jobs.
Roseburg Forest Products – Is also citing weak housing market for its products and closing two plants affecting 125 employees.
Campbell Soup Company – Closing its Marshall Michigan plant.
Barber Foods – Eliminating 82 jobs at its Portland plant.  It is also forecasting more cuts in 2012.
Goldman Sachs – Noted bailout fund recipient is warning it may layoff 230 employees by next spring.   The firm is also planning to axe 1,000 employees globally and replace them with cheaper employees in Singapore.
American Axle – Closing its Detroit, Mi factory and laying off 300 workers.
Borders – The bankrupt book store chain lost its bid to be purchased and the entire chain will be liquidated all jobs will be lost.
Campbell's – The company laid off about 70 workers at a Cherry Hill office as it outsourced financial operations, such as billing and collections.
Cisco Systems – This one has been rumored for months, and gained in intensity over the past couple of weeks.  The company will lay off 14% of the workforce affecting 6,500 jobs.
Alaska Newspaper Inc via Calista Corp – The Calista Corp owns Alaska Newspaper Inc and it is shutting down all of its newspaper operations in Alaska putting 6 papers out of business and affecting 35 full time and 3 part-time employees.
Boston Scientific – Announced that it would layoff 1,200 to 1,400 employees through 2013.
Merck – Announced that it will lay off another 13,000 people through 2015.
Resignations
Ohio State – Jim Tressel admitted to being a cheater and a liar.
Michigan Humane Society – Two board members Cheryl Phillips and Lee Lein resigned in protest over the high kill rate of animals.
Gross Point South High School – Principal Allan Diver resigned over adult pictures on his computer.
City of Detroit – Deputy Mayor Saul Green resigned.
Firing
Detroit Pistons – John Kuester head coach