Third Quarter 2011 Hirings, Firings, Layoffs, Resignations By The Numbers
Keeping in tune with our ever developing story we're going to expand on this one piece as the third quarter develops.  Don't be afraid to take a look at the first quarter and second quarter stats.
We're picking up where we left off for the second quarter of 2011.  One of the biggest developments is that throughout the second quarter of 2011 the initial unemployment claims had been over 400,000 new jobless per week.
This pace has continued through the third quarter of 2011 keeping an 18 week string of 400,000 or more jobless claims per week.  The rate of newly jobless being above 400,000 is considered to be poor, and anything below that number is considered to be a positive development for the labor market.
One economist stated that the economy is "stabilizing" as a result of September's early numbers.  Keep in mind that historically any week with more than 400,000 jobs lost is considered to be a strong sign of a recession.
As a result of the continuing downtrend in the labor market we've added hiring freezes to our third quarter list.
Mass Layoff Reports
| | | |
| --- | --- | --- |
| 2011 | Mass Layoff Events | Total Workers Affected |
| July |  1,579 |  145,000 |
| August |  1,587 |  165,547 |
| September |  1,495 |  153,229 |
| Totals |  3,166 |  310,547 |
Source: BLS
Hiring
Ford Motor Company – The company started a lottery program for 1,800 jobs.

General Motors – Rehired Bob Lutz for the millionth time.
Magna International – Announced a career fair for September 15th.
There hasn't been massive hiring announcements but you can check out our live Twitter stream for job postings.
//
Hiring Freezes
Wright Patterson Air Force – Base has enacted a hiring freeze to last 90 days for all positions.  A sign of downsizing is very real there, the base is also going to start issuing buyouts and early retirement.
Federal Government – An agency overview can be found with buyout's and hiring freezes.
KGUN Channel 9 in Tucson – The station is cutting regular overtime usage and implementing a hiring freeze.
City of St. Charles – The city is also laying off staff and eliminating 85 positions.
Notable Layoffs
Borders – The bankrupt book store chain lost its bid to be purchased and the entire chain will be liquidated all jobs will be lost.
Lockheed Martin – Announced layoffs multiple times ADP said that the company was partially responsible for 57% of layoffs in July.  In August the company announced layoffs of 35 in Maryland, 47 in Indianapolis, and 10 more at a Chesapeake, Va submarine base.
Cisco Systems – This one has been rumored for months, and gained in intensity over the past couple of weeks.  The company will lay off 14% of the workforce affecting 6,500 jobs.
Goldman Sachs – Announced it would lay off about 1,000 employees.
Alaska Newspaper Inc via Calista Corp – The Calista Corp owns Alaska Newspaper Inc and it is shutting down all of its newspaper operations in Alaska putting 6 papers out of business and affecting 35 full time and 3 part-time employees.
LA Times – Announced layoffs and buyouts due to movie ad cuts.
Boston Scientific – Announced that it would layoff 1,200 to 1,400 employees through 2013.
Merck – Announced that it will lay off another 13,000 people through 2015.
US Postal Service – Announced a plan that it may further reduce staff by 120,000.
St. Charles Health System – The city laying off staff and eliminating 85 positions.
Michigan Supreme Court – Supports the elimination of 49 judicial positions.
Bank of New York Mellon – Financial services company is laying off 1500 employees or 3% of its workforce.
Evergreen Solar – Announced a Chapter 11 Bankruptcy and layoff of 65 more employees from it's previous 800 earlier in the year.
Motor City Mattress & Furniture – Going out of business.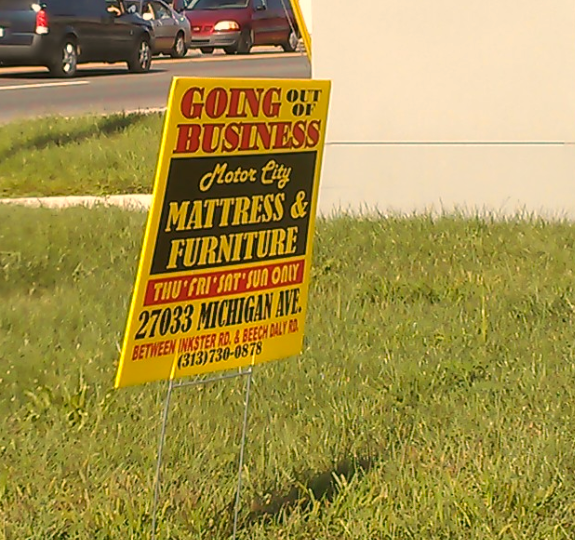 Sears Holdings Corporation – Sears Holdings has started a second round of layoffs and store closures.  It triggered a Mass Layoff notice with the State of Wisconsin for its announced closure of the Burlington Kmart store and the resulting loss of 55 employees.  Sears is also closing a Hardware Store in Grafton Wisconsin and 28 other stores around the country. Estimating the average store has 55 employees like the Kmart above that works out to a loss of over 1,500 jobs.
Solyndra – Announced effective immediately on August 31, that it will lay off all 1,100 workers.  The company had been given over $500 million in tax payer dollars from the Department of Energy.
Bank of America, BofA – Announced it may lay off 40,000 workers during restructuring.
US Postal Service – Announced plans to cut 313 branches and further cut 35,000.
Dendreon – Eliminating 500 jobs to "slash costs".
State of Michigan – Eliminating 367 positions that are unfilled.
Wayne County, Michigan – The State of Michigan plans to eliminate 2,000 jobs at the Mound Road prison in Detroit.
Resignations
City of Detroit – Detroit Board of Education Anthony Adams resigned.
Costco – CEO Jim Sinegalis resigning at the end of the year.
Hyundai Motor – CEO Steve Yang has resigned.   In an interesting twist he will be replaced by two people.
Firing
City of Detroit – Charles Pugh City Council President fired his aid that was arrested.
Yahoo – Fired CEO Carol Bartz