What is Michigan's Work Share Program?

My employer is now enrolled in Work Share, What is Michigan's Work Share Program what does this mean for me?
If your employer signed up for the Michigan Work Share program it means that you will be getting a portion of lost wages replaced from Michigan's Unemployment Insurance Agency.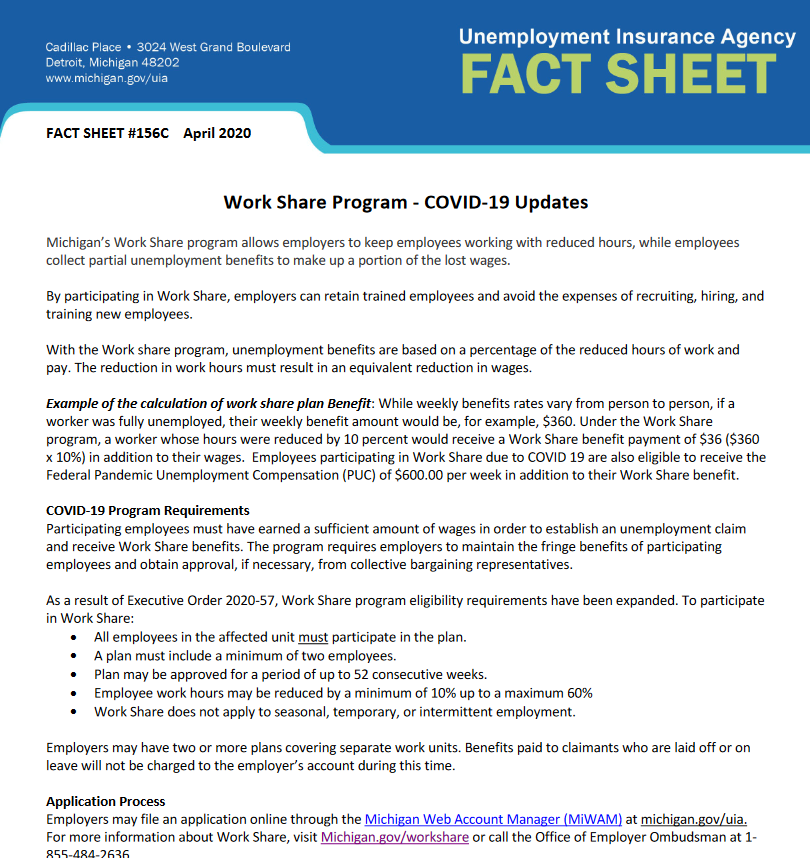 What do I need to do?
You need to work as your employer provides for your hours or shifts. Your Human Resources or management team will submit your weekly eligibility to the state to get payment issued. As an employee you just work like you normally do.
How do I know I'm enrolled?
You will get a letter in the mail like this one which explains your eligibility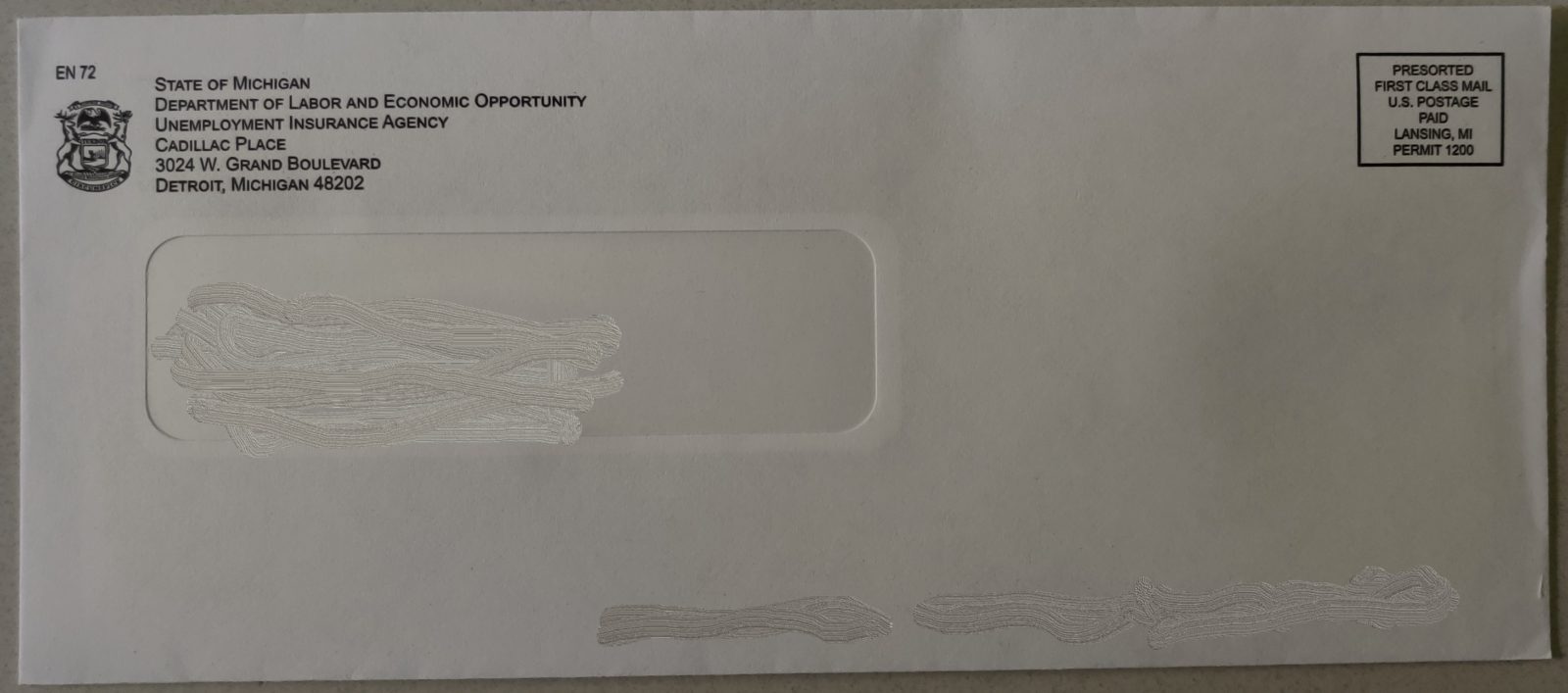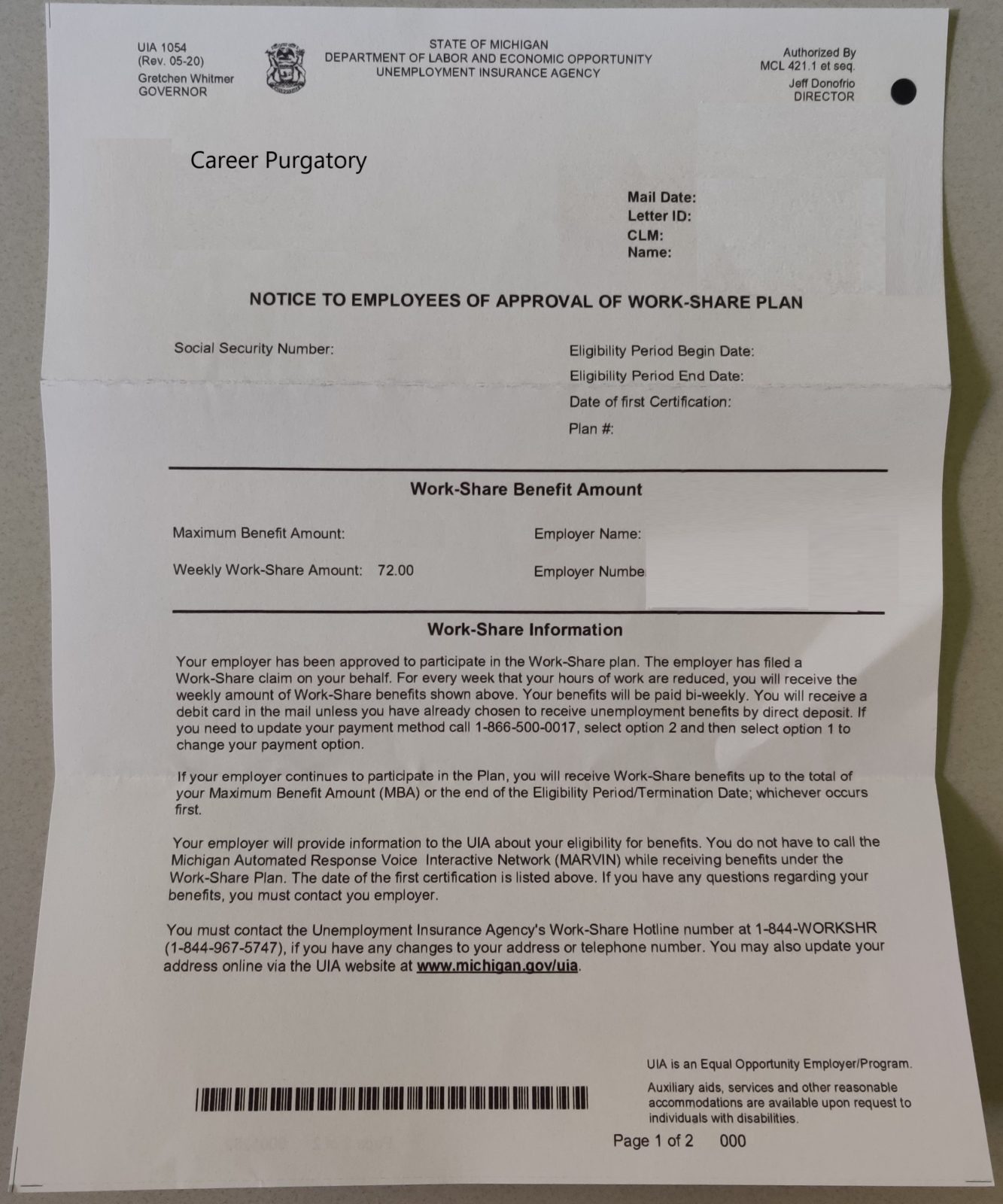 How do I get paid?
You will be issued a Michigan Unemployment Debit Card in the mail, and funds will be added each week you and your employer are participating.
Is it possible to be paid using Direct Deposit instead of the debit card?
Yes. You can call unemployment to ask to be issued direct deposit instead, and this is done without talking to a person if you were unfortunate enough to have had a prior unemployment claim and your bank account and financial institution have not changed since your last claim. We know of someone who spanned at least 12 years and it worked from an automated phone call.
What if I'm part time employee?
The Work Share program covers part time employees too.
What else do I need to know?
As long as the Federal Pandemic Pay is being paid out through this Work Share program you might actually be making more money than without it. Is that really possible? Yes, the employees of the state of Michigan have been participating in this program since nearly its creation. They have been making more money because for their one reduced day per work of work they are now eligible for the $600 Pandemic Emergency Unemployment Compensation (PEUC) or sometimes called PUC plus their "share" of a weekly Michigan unemployment claim for example 20% of $362 for the weekly maximum would be $72, and then $600 of the PUC. If the employee generally earns $15 per hour, or $600 per week, but is now cut to 32 hours and $480 in pay the employees pay will be replaced with $672 weekly for their "day off".
In effect this means employees who lost a day of earnings potential are now getting gross (before taxes and with holdings) weekly earnings of $480 + 672 or $1,152. Or almost doubling their pay. If you consider being paid for not working at a rate of your normal pay, then this is fully a raise as well.
How is the payment calculated?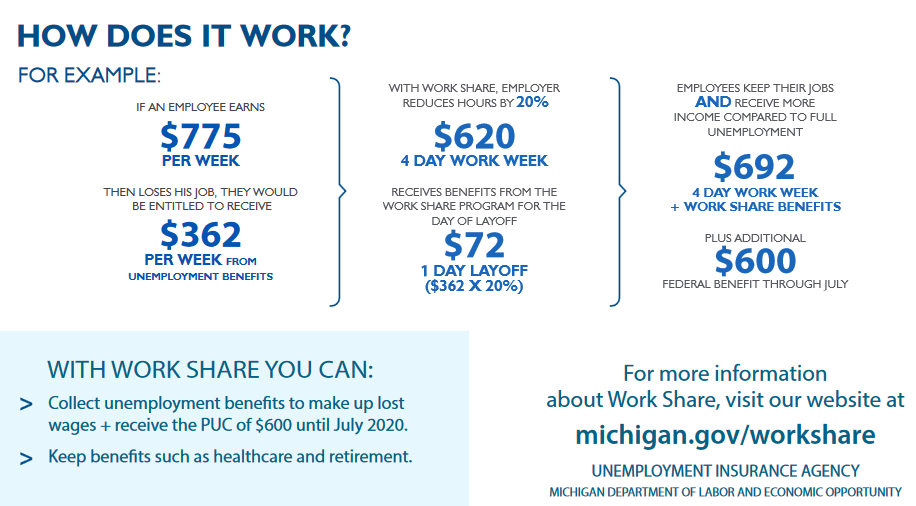 Does my employer know about this program?
Maybe, but you can always share with them how to apply.
What is the catch?
Officially employers are supposed to be an freeze from firing or laying off employees while on this program. So you might be able to rest knowing that likely you will have a job with you employer as long as they are relatively healthy.
The Pandemic Emergency Unemployment Compensation ends July, 31, 2020. So that is the biggest benefit to being able to participate in this Work Share program. The theory is that the likely over-payment has helped to offset prior lost wages in an attempt to make employees close to "whole" for their otherwise expected income potential. Starting in August employees would get the basic 20-60% of their potential Michigan Unemployment Insurance Agency weekly benefit amount which for many would be approximately $72 per day.
How long does this last for?
Your employer can end participating essentially when it is economically viable for them to do so. However if they were to stay on as long as possible it appears that the program ends after 26 weeks, or when federal funding ends which is December 26, 2020.
Plan to get a new 1099 Tax Document for income when filing 2020 taxes
Employees will receive a 1099 at the end of the year for taxes owed, and they are not withheld on your behalf. So if you end up with higher income than 2019 because of this program you will likely end up paying more in taxes, and get a "surprise" 1099 tax document to add to your filing documents.
Is there more information about this program I can read up on?
Yes at the Michigan.Gov website.