Rampant California Unemployment Fraud shuts down new claims
Rampant California Unemployment Fraud shuts down new claims
With the ease to apply for unemployment in California and other states and the prior added $600, and now $300 "bonus" unemployment payments due to the COVID19 Pandemic disrupting the economy fraudsters were quick to pounce on making bogus claims.
In September the State of California paused all new unemployment claim filing starting September 20. The state claims they need this two week reset to validate the currently 591,000 pending claims which have yet to paid for filing unemployment with California EDD. It is estimated that 10,000 new filers are affected each day of this shutdown, so approximately 100,000 newly unemployed will be on the sidelines for at least two more weeks.
California halting new unemployment claims for two weeks to catch up on backlog
So what is going on?
Since at least September 3, rampant fraud claims were publicized in California Media.
ANOTHER story about potential fraud with California's unemployment benefits. My photographer's mom just got this stack of #EDD letters in the mail, none are addressed to her. She never filed any claim w/ EDD and a neighbor saw someone going through their mail! What's going on?! pic.twitter.com/2prWOLDPMG

— Bill Melugin (@BillFOXLA) September 3, 2020
Citizens around California started seeing dozens of new unemployment paperwork in their mailbox for unknown people attached to their residences. These often had the debit cards commonly requested to dispense the funds.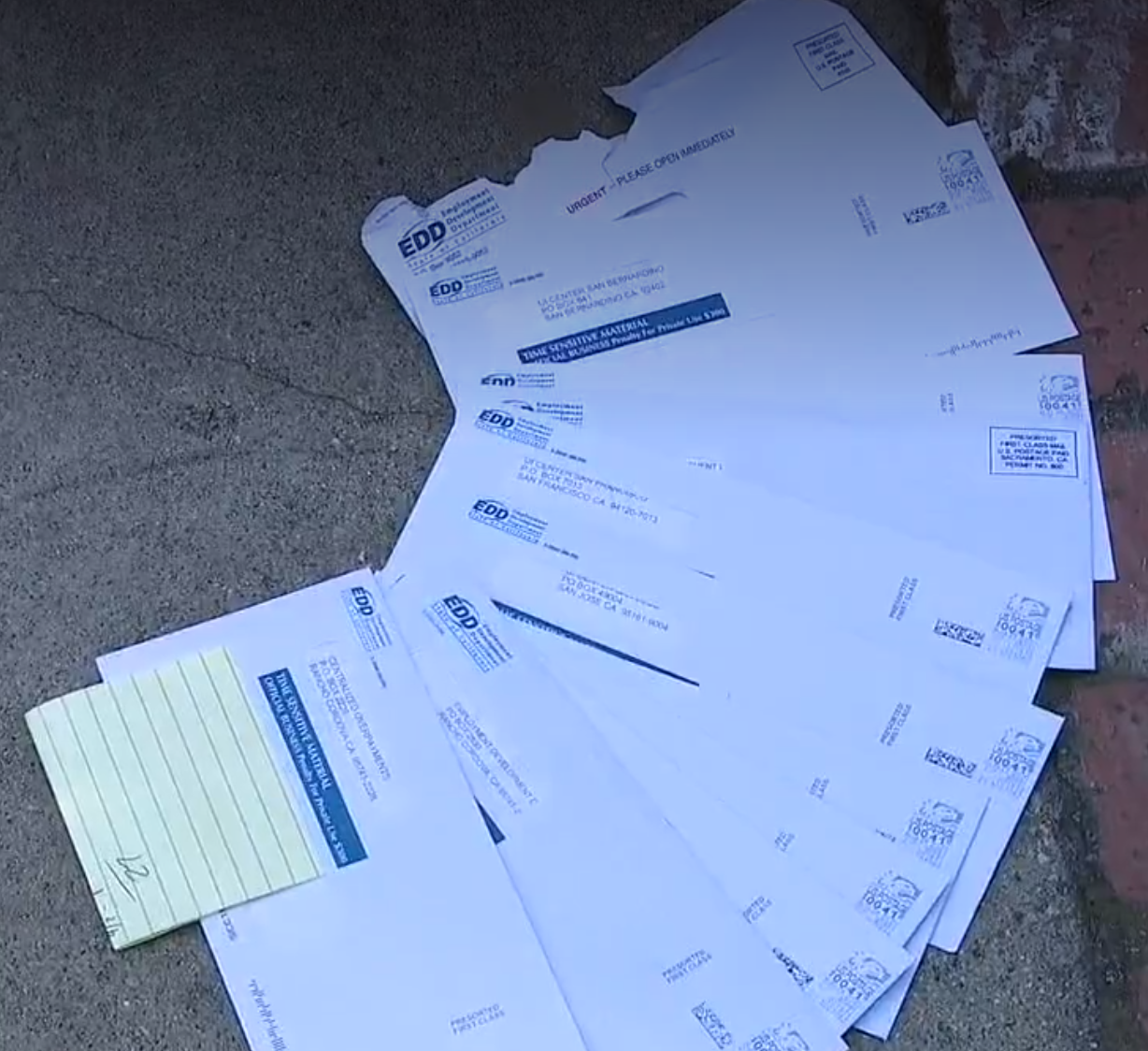 Reports are sweeping California and other parts of the country of ordinary citizens opening their mailboxes to find not just a few, but stacks of letters and debit cards from the EDD.
So California EDD has made the following big changes to make it harder to file for unemployment
New California EDD Claimants should be aware of a few other actions taken that could impact some legitimate claimants:
No automatic backdating of PUA claims The EDD is no longer automatically backdating new PUA claims in order to stop perpetrators from targeting earlier months when federal stimulus payments were available. Legitimate PUA claimants, including small business owners and independent contractors, who believe their claim should be backdated from when they initiated their claim are encouraged to contact the Department in one of two ways:

Submit an online inquiry through AskEDD. Select Unemployment Insurance, then Claims Questions sub-category, and then Backdate the Effective Date of my Claim Due to COVID-19.
Speak to a representative by calling one of the two EDD UI Call Centers at 1-833-978-2511 or other numbers listed on our Contact EDD page.
If you have a legitimate reason to backdate your unemployment claim then you will have to jump through new hoops as well, this process used to be automatic. Given the claim pause period for September it seems that tens of thousands of new claims in this two week "pause" for new filings will in fact be forced to manually submit an inquiry, or call their EDD UI Call Center.
Also made changes to multiple claims from one address from the California EDD posting:
Limiting multiple claims at same addresses While there are legitimate reasons different workers would be living or collecting mail through the same address, the EDD has shut down multiple claim situations following key identified patterns. These situations are believed to be fraud and scammers will often try to intercept, redirect, or gather mail associated with these claims. The EDD warns Californians that the Department will not send representatives to your home and encourages you to help the Department combat fraud by reporting it and using one of the following steps with any mail you may receive that does not pertain to you:

Send any fraudulent documents or mail directly to EDD investigators through EDD PO Box 826880, MIC 43, Sacramento, CA 94280-0225.
Write "Return to Sender" on the envelope and provide it to your mail carrier. Envelopes that may contain debit cards that have yet to be activated can also be returned to sender. The cards are sent on behalf of the Bank of America from an address in Tennessee.
So now if say you are a head of household, and your partner, and maybe adult aged children all find yourselves with legitimate unemployment insurance claims through California EDD, after the first approved claim, the second, third, fourth, and so on filers will have more hoops to jump through to be approved, and collect payments.
More likely need to Verify you Identity with California EDD
It isn't well documented on how to verify your identity with California EDD's new ID.me system but we have some good tips here on how to do it.
Check out our California EDD Frequently Asked Questions for additional insight for your unemployment questions.