Job Losses to Continue for Blockbuster Employees
In 2011 Dish Network prevailed as the highest and best bidder for Blockbuster in Bankruptcy court.  We even have insight as to how a previously esteemed business model that was even as late as 2010 ranked as number 500 in the Fortune 500 list of biggest companies in the United States by revenue was put out to pasture in bankruptcy court (which you can find at the end of this post).  While the brand of Blockbuster will live on, the employees will continue to fade away as stores are cut.
The store above is going to be closed by the end of January 2012.  Look for more store closings in the future of Blockbuster.
Store Count
Blockbuster is not a profitable business in its current form and in order to change that outcome the business will need to continue to continue to trim its stores and employees.  The Dish Network purchase has been said include only 1,751 stores which is much lower than the 3,425 it had in 2010.  Dish will only be assuming 600 Blockbuster stores.
Store Count:
2010 – 3,425
2011 -1,751
Post Dish = 600
As we stated a while back to be competitive with Netflix, Blockbuster needs to get down to around 5,000 workers if it focuses on its DVD subscription service and streaming videos.
Employee Count Comparison
We've pointed out in the past that the death watch of Blockbuster is pretty sad because of the sheer numbers of employees the company has contributed to the workforce.
Near the peak of physical media in 2008 Blockbuster employed over 40,000 workers in the United States and nearly 60,000 globally.
Our analysis during 2010 showed that Netflix and Blockbuster had significantly different employee counts.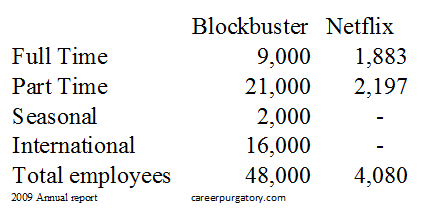 Going forward the employee count comparisons will be much more difficult to look at depending on how Dish Network breaks out employee count numbers.
What is the Future of Rental Industry?
Ongoing speculation at this point is that Dish Network is looking to beef up its streaming media and content partnerships by purchasing Blockbuster.  Not long ago Blockbuster had teamed up with Comcast to offer cable subscriptions in its stores, Dish is said to be thinking about doing the same type of programs with Blockbuster in the future.  Additionally Netflix has warned its shareholders that Dish Networks purchase of Blockbuster is an offensive move into its rapidly growing streaming video subscription service.
As Blockbuster cuts its store count it will be replacing the decreased need with the Kiosks which are outsourced by NCR and are not run by Blockbuster and converting as many customers as possible to the DVD subscription service.  The goal is that Blockbuster's current pay per rental digital model will transform into a subscription service like Netflix so the future of rentals and Blockbuster will be in subscribers.
Blockbuster is now looking to end NCR deal kiosk deal.
Dish Network was also one of the last bidders for the Hulu network which would help enable an overnight access point for Blockbuster to gain access to an already built base of subscribers, content, and video game devices like the Xbox 360.  The future of the industry is a subscriber war.
Video Subscriber War
Based on early 2011 numbers the future of movie rentals are shaping up to be a subscriber war.
22,800,000 Netflix
1,200,000 Blockbuster
14,133,000 Dish Network – subscriber number Feb 2011
5,000,000* Amazon Prime *estimated number.
Anatomy of a Fortune 500 bankruptcy proceeding
Below is a really good live update Twitter stream brought to us of the final day of negotiations from a reporter allowed in the bankruptcy proceedings.  More Twitter updates could be in the future when Kodak goes through it's proceedings.