The Apocalypse of Retail continues
The Apocalypse of Retail Continues
2019 started off with a rash of retailer bankruptcies that are shaping up to be more frequently liquidation compared to "restructuring" of corporate debt.
Payless Shoe Source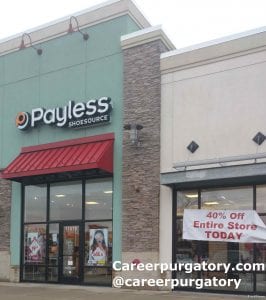 Charlette Russe, Sears Holdings Corporation the parent of Sears and Kmart. However for as bad as 2019 looked to be the year 2020 is bigger and badder for all of the traditional retail store operators. Coupled with high debt loads, and the knock out punch of mandatory store closures in many states due to COVID19 shelter in place orders. Layer on top of that with tens of millions of possible customers working from home the need to replace or update your daily wardrobe with professional clothing has dramatically decreased.
Could Thanksgiving Day and Black Friday be cancelled?
However the biggest challenge will be that with dramatically reduced competition into the fall and holiday season in 2020 due to so many bankruptcy restructurings and outright liquidations (meaning the brand is gone forever) the thought of a Black Friday full of fall deals for Christmas holiday shopping seems impossibly far away.
Target decided to be closed on Thanksgiving Day, a move that should be commended. Thanksgiving Day sales started during the Great Recession as retailers tried to one up each other into getting shoppers to their stores earlier and earlier to grab holiday gift spending. However it really took away from the ability to have a nice family meal for millions of Americans. Walmart is also foregoing Thanksgiving Day sales.
In fact Home Depot has announced they will not have Black Friday in 2020. They are instead claiming to spread out the holiday sales longer through the selling season. Target also says they will spread out sales sooner, and longer throughout the season.
The Death Spiral Continues
Brands known for being big Black Friday players are liquidating.
Pier 1 Imports – The chain of stores are liquidating forever.
Stein Mart – Entire 112 year old brand with 279 stores is liquidating.
Lord & Taylor – At the ripe age of 194 years old another of America's oldest companies is liquidating all of 38 their stores. Which are typically mall anchor stores. When mall anchors close it usually starts to unravel the entire mall ecosystem often leading to death of the mall and other brands there.
Century 21 – not the real estate brand, but the New York retailer is liquidating all stores.
Sears Holdings has been in the worlds longest death spiral since around 2007, it has held on 13 years longer than anyone guessed was possible. Sears Holdings is now down to 60, yes 60 stores in all of the United States of America. This giant was essentially Amazon before the internet.
Others Live to Die Another Day
JCPenney – is slated to be saved by its land lords, but with less stores than they started 2020 with.
Restaurants are not immune
With all of that shopping you have to eat too right? Well your choices to dine out are also getting few and far between with the liquidations of Chuck E. Cheese, Fig & Olive, Souplantation, Toojay's. Even the beloved or hated Fuddruckers is at risk of going away.
What gives?
Everyone of these stores and restaurant brands could disappear forever, or a group of investors could do their best to relaunch the brand at a dramatically scaled back pace like Toys R' Us which has started to come back, even Payless Shoe Source is launching a comeback. What is nearly all but certain the fall seasonal hiring sprees that these former retailing and restaurant giants would scale up hiring literally 100,000's of thousands of holiday workers is moving to your living room and the respective website or sales app all coordinated from a much leaner and less employee staffed warehouse, or commercial kitchen. The holiday hiring will flatten, or be replaced entirely by warehouse robots filling orders.