What Does Michigan UIA Misrepresentation -No Misrep Determination Issued Mean?
What Does Michigan UIA No Misrep Determination Issued Mean?
While filing your unemployment insurance status on MiWAM, you found out that you have the dreaded "No Misrep Determination Issued" what in the world is going on? For starters some sort of automated flag has been put on your unemployment claim for possible fraud.
UIA Certification Issue/Decision Type is Misrepresentation – Misrepresentation
If you are getting the Issue/Decision Type and is is filled as the picture below with Misrepresentation – Misrepresentation you have a problem.

Issue Detail may look like the following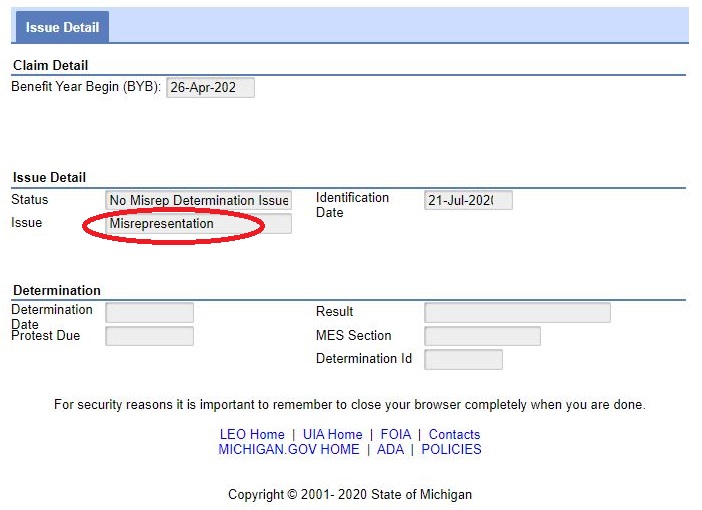 In normal circumstances it means that for some reason the Unemployment Insurance Agency has flagged your claim for fraudulent activity. This system is automated, and as the UIA Director Steve Gray provides in this video below it is the state getting some sort of mismatched information from you, and a previous employer or employers depending on length between employers.  It could mean that a prior employer shows you were working while you are claiming you are unemployed.
In the 2020, and parts of 2021 with the massive amounts of new claims, the system is relatively automated and users have been reporting this as some sort of bug or glitch in the system. More interesting is that while a lot of people have explained they have not been paid. While some users reported actually getting some unemployment payments. So it appears to be a roll of the dice if you would still get paid while you have this error flagged on your claim account.
How can this No Misrep Determination error get fixed?
Feedback we've seen is that you need to speak with a UIA representative and in many cases simply need to verify your identification or ID. This is happening often between normal unemployment claims expiring and being moved on to extended benefits, or PECU extensions to help limit fraud in the unemployment insurance system. So we advise you to clear your schedule, and do everything you can to get on the phone with a live UIA representative to sort the No Misrep issue out, to limit its effects on possible no payment.
What the Michigan Unemployment Insurance Agency says
Below is the PDF document that the state of Michigan Unemployment Insurance Agency explains what the Misrepresentation error could mean. It focuses more on fraud.
UIA No Misrep Determination Issued
We've had some information on the topic here: