Fourth Quarter 2013 Hirings, Firings, Layoffs, Resignations By The Numbers
We've entered the fourth quarter for 2013, here is a breakdown of the employment situation as it develops.  As it stands we started the 4th quarter of 2013 with a Government shutdown that has impact on how unemployment numbers are collected and reported.  Additionally government contractors are announcing new layoffs and furloughs.
Check out the First Quarter, Second Quarter and Third Quarter for 2013.
Take a look at the past quarterly reports we've compiled for as far back as 2011.
For 2012 coverage check out First Quarter, Second Quarter, Third Quarter and Fourth Quarter reports.
For 2011 coverage check out our First, Second, Third and Fourth Quarter reports.
Mass Layoff Reports
Thanks for Mya pointing out that the Bureau of Labor Statistics will no longer be compiling the Mass Layoff Reports that have been compiled quarterly since 1995, further clouding the picture of the Employment Situation in the United States of America.
                					 |
|                    Mass Layoffs Data Discontinued			 |
|                                   					 |
| On March 1, 2013, President Obama ordered into effect the across-the-	 |
| board spending cuts (commonly referred to as sequestration) required	 |
| by the Balanced Budget and Emergency Deficit Control Act, as amended.	 |
| Under the order, the Bureau of Labor Statistics (BLS) must cut its	 |
| current budget by more than $30 million, 5 percent of the current 2013 |
| appropriation, by September 30, 2013. In order to help achieve these	 |
| savings and protect core programs, the BLS will eliminate two		 |
| programs, including Mass Layoff Statistics, and all "measuring green	 |
| jobs" products. This news release is the final publication of monthly	 |
| mass layoff survey data.
| | | |
| --- | --- | --- |
| 2013 | Mass Layoff Events | Total Workers Affected |
| October | Cancelled | Cancelled |
| November | Cancelled | Cancelled |
| December | Cancelled | Cancelled |
| Totals | | |
Source: BLS
Hiring
There are not really exciting hiring programs but most major retail companies are hiring seasonal workers.
Macy's – is looking for seasonal workers
JC Penney – will hire 35,000 seasonal workers.
Gentex – West Michigan automotive supplier is looking for production workers.
Walmart – Looking to hire 55,000 seasonal workers.
Target – The company is hiring 20% less seasonal workers than it did in 2012 sticking to just 70,000 seasonal helpers.
Toys R Us – will hire 45,000 seasonal workers.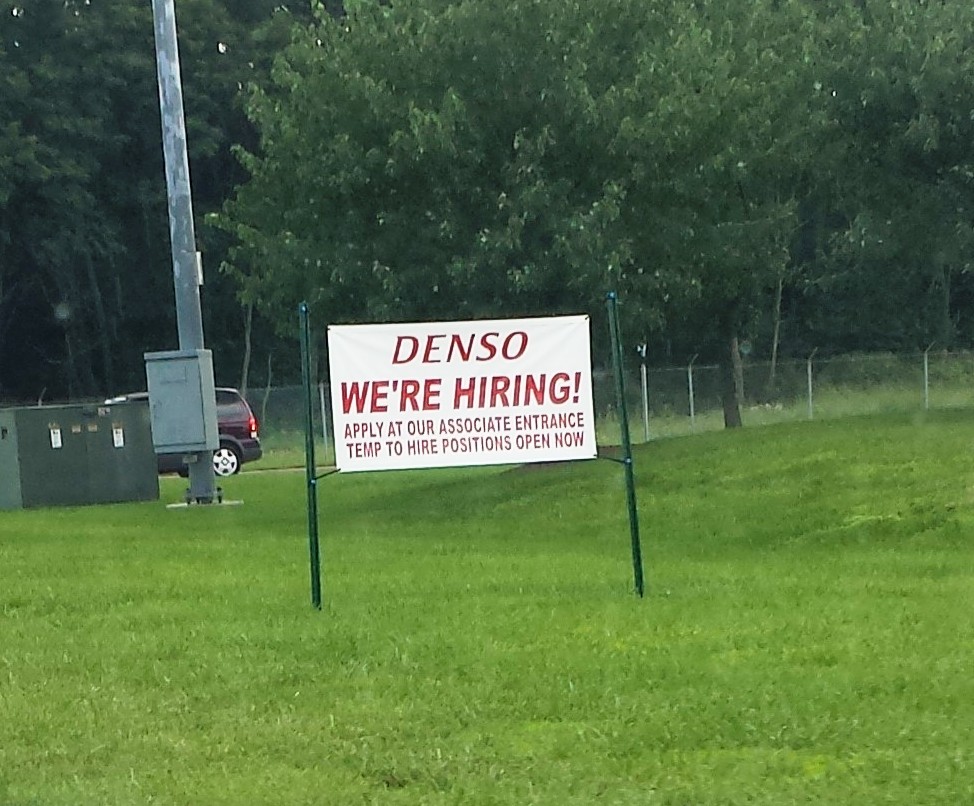 Denso North America – It isn't very often you see an old school hiring sign anymore, but this automotive supplier has jobs in Battle Creek Michigan, click the heading to find what is open.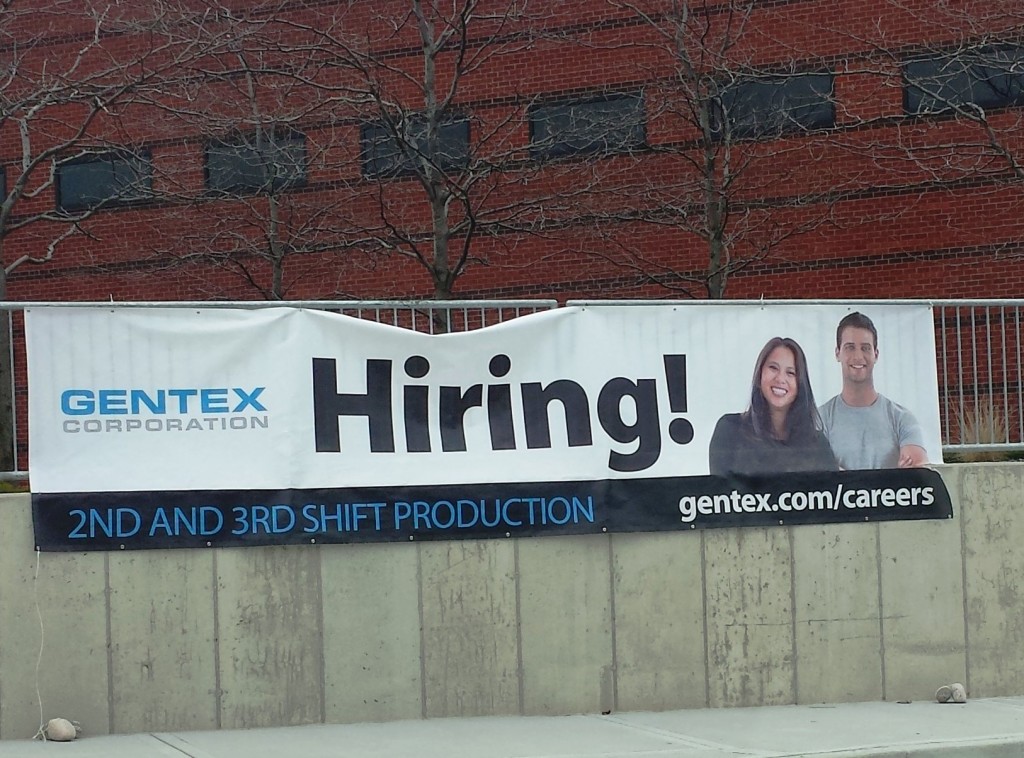 Gentex – Another automotive supplier in West Michigan is hiring workers for production check out their site Gentex/careers.
General Motors – The company is investing $1.3 billion at its engine plants, and will create about 300 jobs.
Furlough
United Technologies – will furlough 2,000 workers on Monday due to the absence of federal inspectors from its plants who audit and approve various stages in the production process for its Sikorsky helicopter group. **Update 10/6 After Defense Secretary Chuck Hagel to recalled most of the Pentagon's own furloughed civilian workers, Sikorsky cancelled it's furloughs.
UTX's Pratt & Whitney engine business expects to furlough an additional 2,000 at week's end if the shutdown continues.
BAE Systems , Inc. – about 1,000 employees already excused from work at their customer sites.
Lockheed Martin – Roughly 3,000 workers are furloughed.  The company is also cutting 4,000 workers.
Notable Layoffs
Lockheed Martin –  is cutting 4,000 workers over unknown defense spending.
University Of Michigan – The University is laying off 50 human resources and financial services staff positions.
Rdio – web streaming service is rumored to have cut 35 workers
Bon-Ton – Is closing one of its Boston Store branded stores in Sheboygan Wisconsin the move will affect about 80 workers.
Tribune Company – Slashing 700 jobs as the company reorganizes.
MTS Systems – The test equipment manufacturer issued layoff notices to some groups of the company, and claims to reinvest the savings into R&D.
Martha Stewart Living Omnimedia – about 100 employees were laid off before the holidays, these represent 20% of the company's prior 500 employees.  A pretty serious cut to the workforce.