Third Quarter 2013 Hirings, Firings, Layoffs, Resignations By The Numbers
We've entered the second quarter for 2013, here is a breakdown of the employment situation as it develops.
Check out the First Quarter and Second Quarter for 2013.
Take a look at the past quarterly reports we've compiled for as far back as 2011.
For 2012 coverage check out First Quarter, Second Quarter, Third Quarter and Fourth Quarter reports.
For 2011 coverage check out our First, Second, Third and Fourth Quarter reports.
Mass Layoff Reports
| | | |
| --- | --- | --- |
| 2013 | Mass Layoff Events | Total Workers Affected |
| July | unreleased | unreleased |
| August | unreleased | unreleased |
| September | unreleased | unreleased |
| Totals | | |
Source: BLS
Hiring
Meijer – The Michigan grocer super stores are looking to hire 4,400 workers in Michigan.  It comes after the store recently opened its first store in the City of Detroit, which didn't have a grocer to speak of.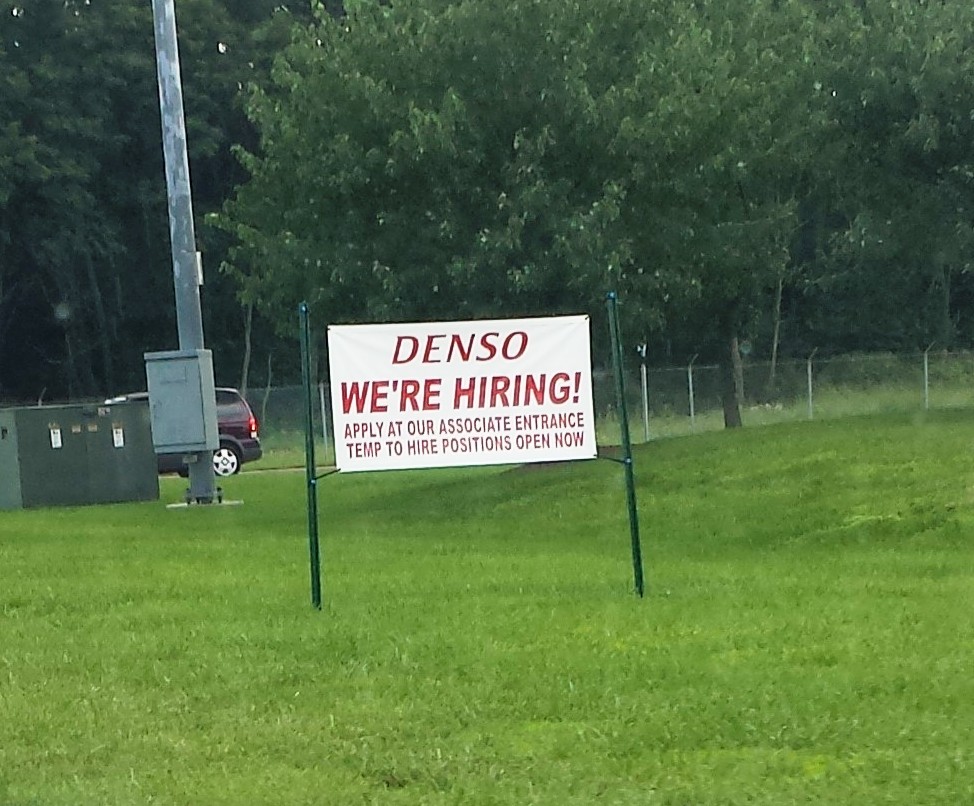 Denso North America – It isn't very often you see an old school hiring sign anymore, but this automotive supplier has jobs in Battle Creek Michigan, click the heading to find what is open.
Novo 1 – Hiring 240 workers in Highland Park Michigan.
United Airlines – Nearly 600 pilots were recalled back to work.
Hiring Freezes
Notable Layoffs
General Motors Romulus Engine – The layoffs of approximately 560 workers took place August 9th. Many of these jobs will not return after the retooling has been completed at this plant.
AOL's Patch– on a conference call one of the employees who tried to take a picture of the meeting was fired on the spot. You can hear it unfold below.  The event will see up to 550 people let go.
Cisco – The company is cutting jobs yet again.  This time they will be axing about 4,000 jobs.
Fifth Third Bank Operations Center – laid off "less than 100" workers in Ohio.
Sprint – After it's recent purchase from Japan's SoftBank Corp the company has cut 800 workers as the Nextel system was shut down.
Wells Fargo – One of the nations biggest mortgage lenders sent out notices to 2,300 worker they will be laid off.
Heinz – The right hand man to Americans French Fries the Ketchup maker axed 600 employees about half of which were executive level, after it was sold earlier this year for a cool $28 billion.
Bank of America – 2,100 jobs and closing 16 offices by Oct. 31.
The Indiana University – Laying off 50 workers as a result of Obamacare or officially Affordable Care Act.
Intel – The company is closing its Massachusetts production facility and eliminating 700 high paying jobs, most of which are $80,000 or more per year.
NBCUniversal – With a cable network rebrand about 100 employees likely will see their jobs disappear.
Resignations
J.C. Penney – Board member Steven Roth resigned.
Firing
Delaware North Companies Sportservice – Charley Marcuse The infamous singing hotdog guy at the Tiger's Comerica Park.
AOL's Patch – See above.