Judging by the flurry of Google users we've found there are a typical set of questions that unemployed folks are looking for.  My goal is to make that search for your answer even easier than I've made it in the past.  Sadly the Michigan's own MARVIN pages contain little information that is actually helpful to your needs, without further ado here is our frequently asked questions for Michigan Unemployment. So welcome to our MARVIN FAQ.
How do I apply for Michigan unemployment?
There are many websites that will tell you they can help you out, but the only one that can is the Michigan Government website.  We link to our strategies here.
What Is Michigan's Unemployment Rate?
How many people are unemployed in Michigan?
How is my Unemployment payment amount calculated?
The State of Michigan's UIA has produced a video webcast to explain how you can calculate your unemployment payment amount for an estimate.  The State will do the official calculation from your employee tax history, it is a good idea to compute the math yourself to get an idea how to budget your new dramatically lower income source.
What is the maximum amount of weeks for Michigan unemployment?
January 15, 2012 will be the cut off date for newly unemployed workers to qualify for a maximum of 20 weeks of unemployment.
Workers laid off before this will qualify for 26 weeks of unemployment.
How do I calculate the unemployment benefit amount for Michigan Marvin?
The Michigan UIA has a calculator page to work out your estimated unemployment benefit amount it can be found here: http://michigan.gov/uia/0,1607,7-118-26831_27118-82227–,00.html#weekly
What is the maximum unemployment benefit amount in Michigan?
$362 per week or $724 per MARVIN period if you do not have dependents.
You add $5 per dependent up to 5.
The highest unemployment benefit amount with dependents would be $774 for a two week MARVIN period.
Why is my MARVIN paycheck smaller than normal?
March 31st of 2013 the paychecks of everyone in Michigan using MARVIN will be 10.7% smaller.  This is a result of the sequester and average paychecks are were $285.21 would be reduced to $254.69, according to the Michigan UIA.
What is certifying with MARVIN?
Certifying with MARVIN is when you call MARVIN (insert number) and answer all of the questions AND MARVIN tells you your payout, and says goodbye and hangs up on you.
What is MARVIN's phone number?
The phone number for MARVIN is 866-638-3993.
How often do I call MARVIN?
You need to call MARVIN every other week starting on your official MARVIN appointment date.  The time of the call does not change ever.
When do I actually call MARVIN?
If you are trying to find the call in schedule for MARVIN we have that information here.
How long does it take MARVIN to pay me after I certify for unemployment?
After you call MARVIN to certify it will take typically 2 business days for money to get to your account.  This does not matter much if you are on the Debit Card or utilizing Direct Deposit.
Example if you call to certify on Friday, you should have money in your account by Tuesday.
There are exceptions to every rule, and I've been aware that it can take up to one full week for payment to process.
How does MARVIN pay me?
By default the State of Michigan prefers to set up those collecting unemployment with a Debit Card for payments.  The other option is a Direct Deposit to your current banking institution.  The older method of paper checks that were mailed to your residence are nearly extinct, I imagine if you prefer this payment method, and have a lot of time on your hands you may be able to get a paper check.
What happens if MARVIN didn't give me a dollar amount or dollar figure when I certified?
You either earned too much money, or you may have missed a MARVIN certification on your previous appointment.  Read about how to handle this situation on the phone in the comfort of your home, or in person at your closest resolution office.   There could be other issues but the most common is a missed certification that slipped your mind.  Regardless of what why you did not get a dollar figure, you will need to call, or go to an office to get to the situation straightened out.
How much can I earn before MARVIN puts my amount on hold?
If you claim earnings of more than 50% of your weekly benefit amount in any week, your payment will automatically be placed on hold.  You will have to call UIA to declare that you are not back to work full time, and they will release payment.
What is the phone number for UIA?
The phone number is 866-500-0017
What is the fax number for filing your Record of Work Search form?
517-636-0427
What is Emergency Unemployment Compensation?
A Federally funded unemployment tier that takes place after the State maximum of 26 weeks.
Do I have to apply for Emergency Unemployment Compensation?
No you do not have to apply for EUC after your initial benefit is exhausted.  You should get some information in the mail when your claim expires informing you of your benefit status.  This is a newer development with the increase in unemployment as you used to have to do more work between unemployment extensions.
How does EUC work?
The Federal Government stipulates that unemployment tiers will be paid out if a State's unemployment rate is at or above certain thresholds.
EUC Tier 2 ends if a state's unemployment rate is less than 6%.
EUC Tier 3 ends if a state's unemployment rate is less than 7%.
EUC Tier 4 ends if a state's unemployment rate is less than 9%
How many weeks does EUC last for?
Depending on the cutoff for MARVIN unemployed workers can qualify for a couple of different EUC lengths at the 4 tiers available.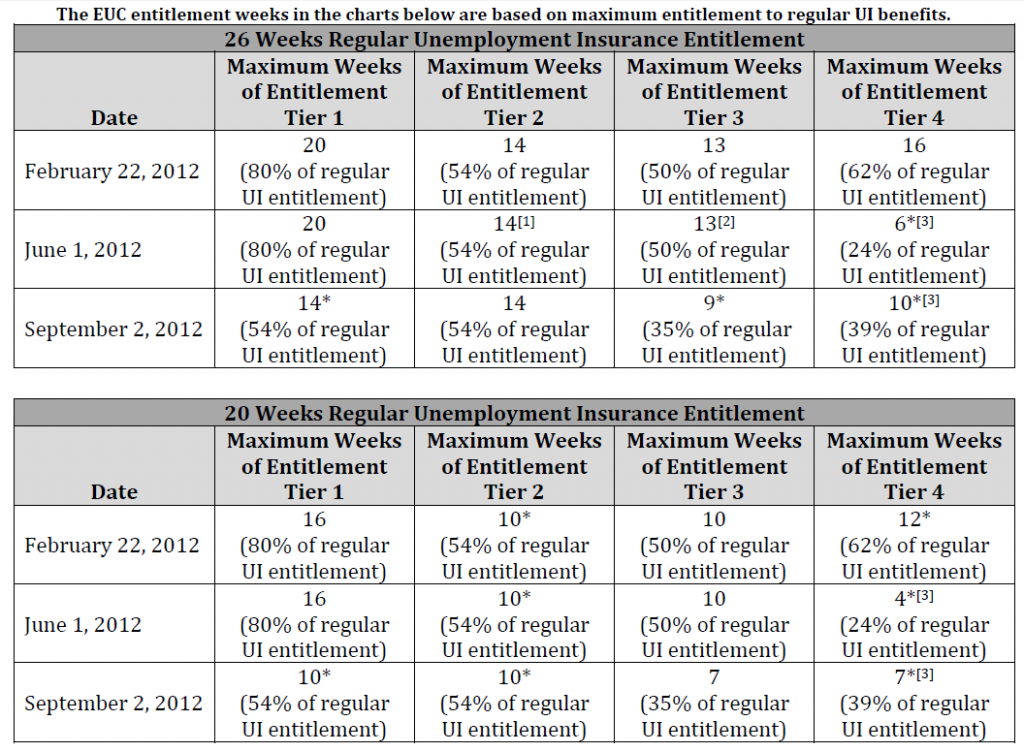 How many Tiers of EUC does Michigan qualify for?
Starting June 1st Michigan will only qualify for 3 tiers of unemployment benefits because it's unemployment rate fell to under 9%.
What happens if I'm in the middle of an expiring EUC tier?
If you are collecting unemployment benefits from an EUC tier that is expiring you can complete that cycle of benefits, which will exhaust your unemployment.
What is Extended Benefits?
A Federally funded unemployment tier for unemployment.  Little to nothing changes from previous tiers.
How many employers do I need to contact each week for Extended Benefits?
As of 2010, you only need to contact two potential employers per week, which is down from 3 potential employers per week.
Does Extended Benefits end in Michigan?
Yes, the Michigan eligibility will expire March 24, 2011, and benefits will be terminated on April 2, 2011.
Can Extended Benefits be renewed?
Yes, you can read more about the situation here.
Does my unemployment amount change when my extension ends?
No, provided that you are collecting unemployment from the same claim, your unemployment benefit amount will not change.
Did the latest unemployment legislation help me out?
If you were a "99er" or a person that has had 99 weeks or more of unemployment you are not eligible for the latest round of unemployment assistance.
What happens after I have competed 99 weeks of MARVIN?
You will get a letter in the mail telling you to stop calling, that you have exhausted all benefits.  At this point, you will have no support, and can identify as a "99er".  Our advice would be look into advocacy groups like the American 99ers Union.
How do I figure out how many weeks I have left on my claim?
You can call MARVIN to inquire, or register with MARVIN online and get the status there.
What do I do when my benefit year ends?
Check out this article here about how to refile your unemployment claim with the state.
Can I attend school or training while collecting unemployment?
Yes you can attend school or training.  In fact many unemployed people apply for No Worker Left Behind are in classes.  You will most likely have to fill out a form informing the state that you will be attending training, and will drop or reschedule classes if they interfere with a job offer.  You read a first hand experience of how the No Worker Left Behind program worked out for me.
Does the State offer any other unemployment assistance besides pay?
Yes, but it depends on your financial picture.  You can find out if you qualify for the EBT Bridgecard for a food benefit through the state.  You may also be able to get a Medicaid insurance coverage through the state.  Go to the States website to find out more information.
Are there any private businesses that offer assistance or discounts for unemployed people?
Yes you can find a list of these businesses here.
Can I change answers after I made a MARVIN call?
To say yes is too easy, basically you are asked to review your questions and then you certify your final answers kind of like on Who Wants to be a Millionaire.  To change your answers would require you to call the UIA as soon as you figure out that you made a mistake, or visit one of the PRO offices.  See how to do that above.
Can I get MARVIN if I have just completed my service with the military?
In many instances you can, here is the State of Michigan pamphlet on the details to make it happen.
Do these answers apply to any other states besides Michigan?
Possibly, we feel that most states have similar unemployment guidelines so this guide is a good approximation to how your state system works.  If you feel inclined to let us know how your state works send us an email at [email protected]  If you want to plug your own website or blog we'll do that for you.
Did you miss anything relating to unemployment in Michigan?
Probably, but you can feel free to inform us of new developments, errors, or tips to improve our guides by sending an email to [email protected] you can also do this by using our form above.  If that isn't good enough for you feel free to leave comments for us.  We'll post updates as often as we figure out new things but feel free to bookmark us and come back.  We have new posts up every week, in the mean time have a look around and support our sponsors.
Don't be afraid to follow us on twitter.com/careerpurgatory or friend us on Facebook.
Last Updated  3/14/2013